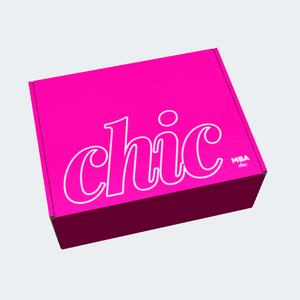 Dive into our curated Chic Box featuring female-founded brands within our community and orbit. Featuring some of our favorite MBA founders and supportive brands, this box is the perfect way to celebrate a graduation, new career and/or bschool journey that's about to begin.
Limited quantities available.
If interested in purchasing a future mailer to support more brands and founders in our community, please sign up for our waitlist here. To join our next mailer as a founder or brand (products and service businesses welcome!), sign up here.

Featuring:
SHHHOWERCAP - Yes, this is the chicest shower cap ever. SHHHOWERCAP's patented design is a necessary upgrade from the tacky, ruffled, hair protectors of days past. "It needed to be done. So, we did it. Why were we ever settling for hair preservation that felt like a sacrifice? Finally, there's a shower cap that you'll look forward to wearing." Chic, luxurious fabrics in a fashion-forward silhouette that protects your hair & keeps you on the move.
Jen and SHHHOWERCAP founder Jackie DeJesu Center met in line at NYFW when Jackie turned to Jen & asked her signature question, "do you wash your hair everyday?" (Almost 90% of women do not.) She shared SHHHOWERCAP and Jen was sold.

IXORA Apparel - IXORA Apparel produced made-to-measure blazers that offer sleek silhouettes in luxe fabrics. Made-to-measure means that it's made just for you. Each piece is individually cut & stitched for your individual and beautiful shape. You are not mass produced – so why should your clothes be?
Founder & recent HBS graduate Farah Azmi launched IXORA Apparel at the start of the pandemic while studying after being frustrated with the lack of fashionable and sustainable blazer options out there for her Wall Street job. You've seen her write for MBAchic & speak on panels about the value of launching a business while pursuing your MBA.

Passport Polish - Passport Polish is a globally-inspired beauty brand specializing in nail polish. Each product is inspired by a different element from a country! From flag colors to national flowers, each polish color as well-researched for its vibrant finish. The proceeds from a featured polish go to different charitable organizations, most recently helping the people of Nicaragua & Honduras. The nail polish is also vegan, cruelty-free, and ten-free. This New-Orleans based & Latina-owned business was born out of founder Mari Brisco's love for travel and nail polish. Mari started her started Executive MBA program at the University of New Orleans in the fall of 2021.
Kahawa 1893 - East Africa is the birthplace of coffee and the region is celebrated for producing the most distinctive coffees in the world. Kenya began growing coffee commercially in 1893 and although producing less than 1% of all coffee in the world, it's considered the best coffee you can enjoy. In the Kenyan coffee farming industry, women own only 1% of the land, but compose 90% of the workforce. HBS grad Margaret Nyamumbo provides sustainable wages, matches tips and is the first Black-woman to own a coffee brand at Trader Joe's: "I grew up on my grandfather's coffee farm in Kenya and witnessed this phenomenon first-hand. I left my job on Wall Street on a mission to help these women. I invite you to join me on this journey. No action is too small."
Sara Be Creating - Artist & creator Sara Duran started creating inspiring portraits while exploring her passion for digital art: "Amplifying the voices of women (especially BIWOC) is crucial to breaking cycles of inequality. These women found their way to the national spotlight and were unapologetically vocal about their experiences with bias, sexism, and racism. In doing so, they have had an unprecedented impact on entire generations of women." Sara is considering going back to school after being part of the MBAchic community and shared that MBAchic stories have provided a "paradigm shift" when it comes to business school and thinking about what it could do. She recently launched a print featuring poet Amanda Gorman.
DVF's Own It - In her new book, Diane shares her accessible, empowering manifesto: connect, expand, inspire, advocate. In an easy-to-navigate A–Z format, "Own It" is her blueprint for enjoying both personal and professional growth at any age. "The secret to life is one thing: OWN IT. Own your imperfections. Own your vulnerability; it becomes your strength. Whatever your challenge is, own it. Owning it is the first step to everything." — DVF
DVF & her team graciously hosted MBAchic and our partners for a talk on the power of community — amidst DVF's iconic gallery of Ashley Longshore portraits of trailblazing women, MBAchic kicked off our relaunch.
MBAchic goodies - had so much fun curating this mailer, and of course included some MBAchic goods -- hope you love the surprises inside (if applicable, select your grad year below!). 
If interested in purchasing a future mailer to support more brands and founders in our community, please sign up for our waitlist here. To join our next mailer as a founder or brand (products and service businesses welcome), sign up here.